XTRA PIPCANTE
XTRA FLAMIN' HOT
If we're talking spicy, we're talking Mexico.
That's why, to launch Pepsico Snacks' new spicy flavors platform, Xtra Flamin' Hot, we built on an insight coming straight from the streets: "A snack is only as hot as the number of profanities you say when you try it".
We turned that very local insight into a key product promise for a target group who is used to strong emotions, such as the Mexican Sensation Seekers.
That way, we positioned the new extra spicy flavor platform, as the most intense one in the entire category.
Because spicy is not the same as Extra Spicy.
Disciplines
/ BRAND STRATEGY
/ INNOVATION STRATEGY
/ COMMS PLANNING
/ CONVERSATIONAL COMMERCE STRATEGY
/ CREATIVE TERRITORY & BIG IDEA
/ KPI TRACKING & ANALYSIS TO GATHER LEARNINGS
/ SOCIAL AND INFLUENCE MARKETING STRATEGY
/ DIGITAL CONTENT
/ PRODUCTION MANAGEMENT
Collaborators
/ PRIMO
If we're talking spicy, we're talking Mexico.
DON'T UNDERESTIMATE THE XTRA PIPCANTE EFFECT OF FLAMIN' HOT
DON'T
UNDERESTIMATE
THE XTRA
PIPCANTE
EFFECT OF
FLAMIN' HOT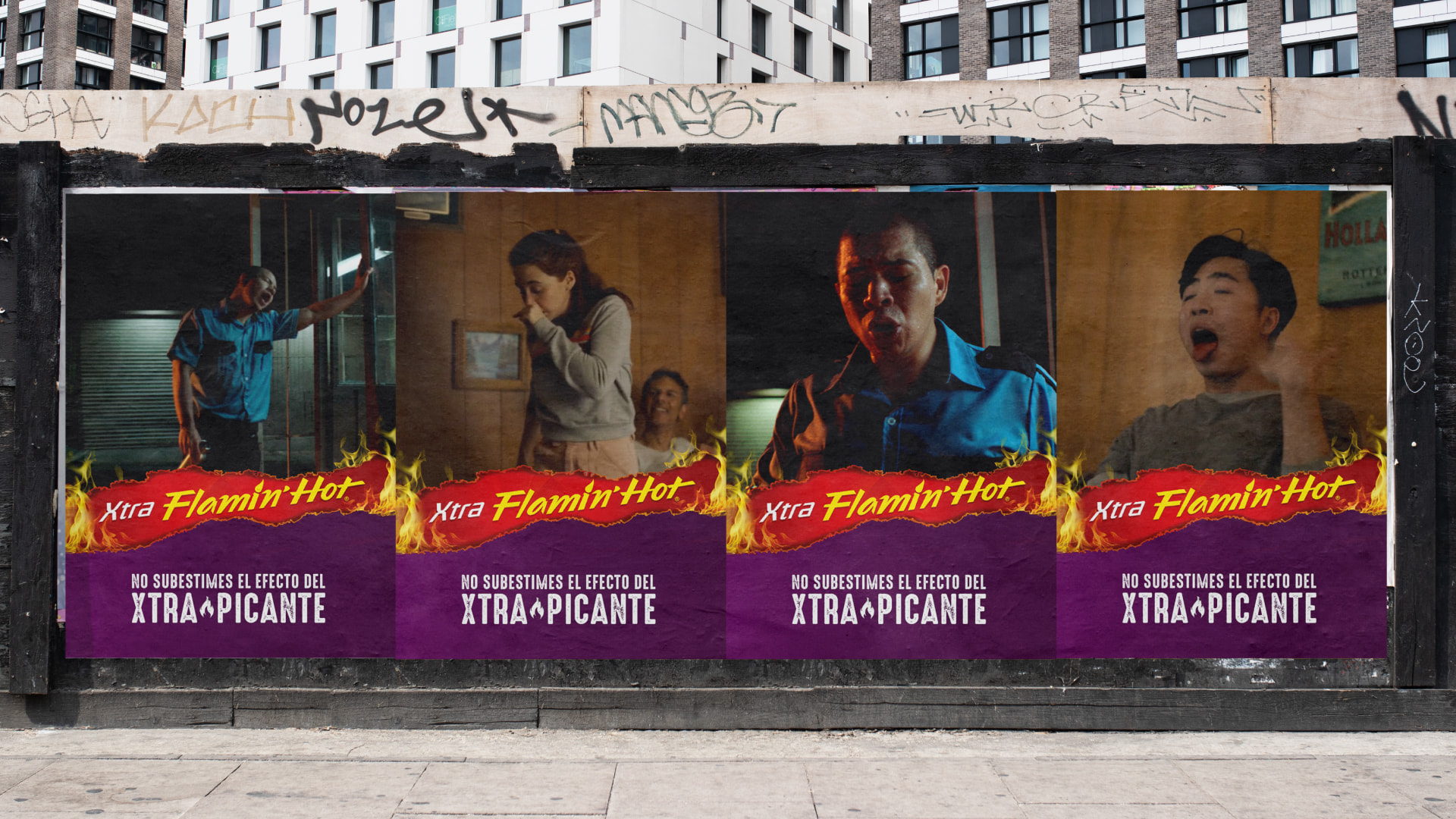 CLIENT
XTRA FLAMIN' HOT
JUNE
2021
"AND IF IN THIS WORLD THERE ARE EVEN THOSE WHO DENY THAT THE EARTH IS ROUND, TODAY WE DECIDED TO SHOW THOSE WHO DENY THE SPICY POWER OF XTRA FLAMIN' HOT" – RODRIGO TREVIÑO, SR. MANAGER OF THE BRAND.
Advertiser: PepsiCo. Product: Xtra Flamin' Hot. Chief strategy officer: Mariano Serkin. Chief creative officers: Ariel Serkin, Rodrigo Grau. Executive creative directors: Mariano Gamba, Rodrigo Greco. Creative Directors: Gustavo Botte y Zacarías Kesselman. Head of production: Coqui Giménez Uriburu. Head of art: Diego Correa. Head of media: Vica Clucellas. Project manager: Berenice Sotelo Production House: Primo México. Director: Martín Kalina DF: Galo Olivares. Managing director: Jaime Vidal Head Of Production: Omar Uscanga. Executive Producer: Maru Carbi. Editor: Nico Rivas y Dani Balleza. Posproducer: Daniela Balcazar, Nancy Bravo. Color Correction: Jorge Russo Audio: Shalala. Soundtrack: Edy Lan Client: Xtra Flamin' Hot. Regional Team: Hernán Tantardini, Daniel Villafañe, Cynthia Juárez y Aranza Incapié. Client Producer: Salomón Levy, Melissa Hernández Vega y Hugo Tenorio.