The Fourth Ingredient
Sabritas
Sabritas potato chips are made only with potato, oil, and salt, leaving no doubt about their natural origin.
However, we had one problem: only 18% of Mexicans knew that. So, with new labeling regulations coming to the market, this iconic brand had to face a big business and communications challenge.
That is how we created "The Fourth Ingredient", a new communications platform for Sabritas, which not only built on the three basic ingredients, but also emphasized the brand's natural positioning by including the human factor. This helped to point out the invaluable contribution of the men and women who work in the Mexican fields, in the production of 100% natural potatoes.
Disciplines
/ RESEARCH
/ BRAND STRATEGY
/ CONTENT STRATEGY
/ COMMS PLANNING
/ CONVERSATIONAL COMMERCE STRATEGY
/ BRAND EXPERIENCE
/ DIGITAL CONTENT
/ PRODUCTION MANAGEMENT 
Collaborators
/ REBOLUCION
Sabritas potato chips are made only with potato, oil, and salt, leaving no doubt about their natural origin.
A FOURTH INGREDIENT THAT CANNOT BE SEEN, BUT CAN BE FELT.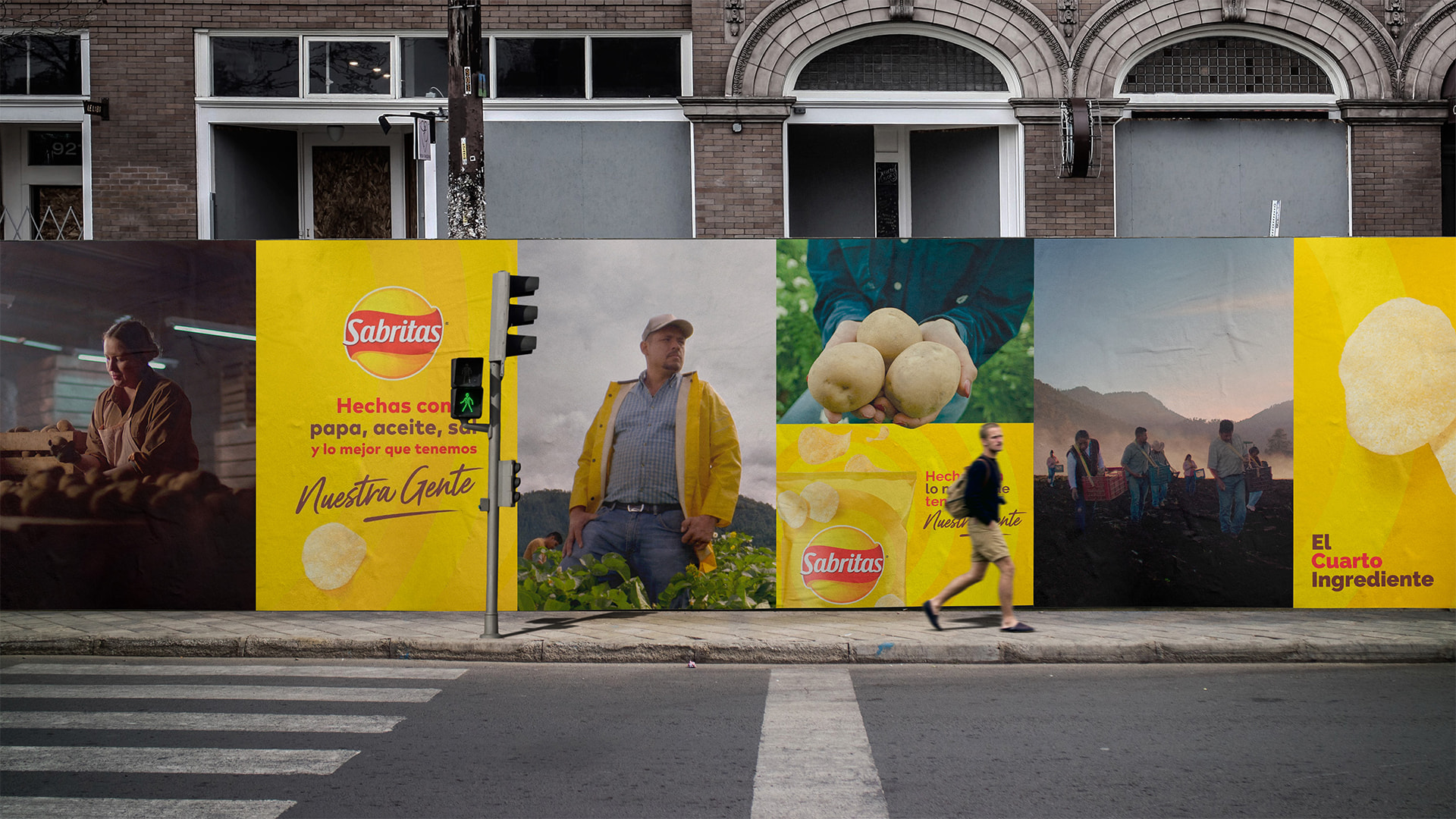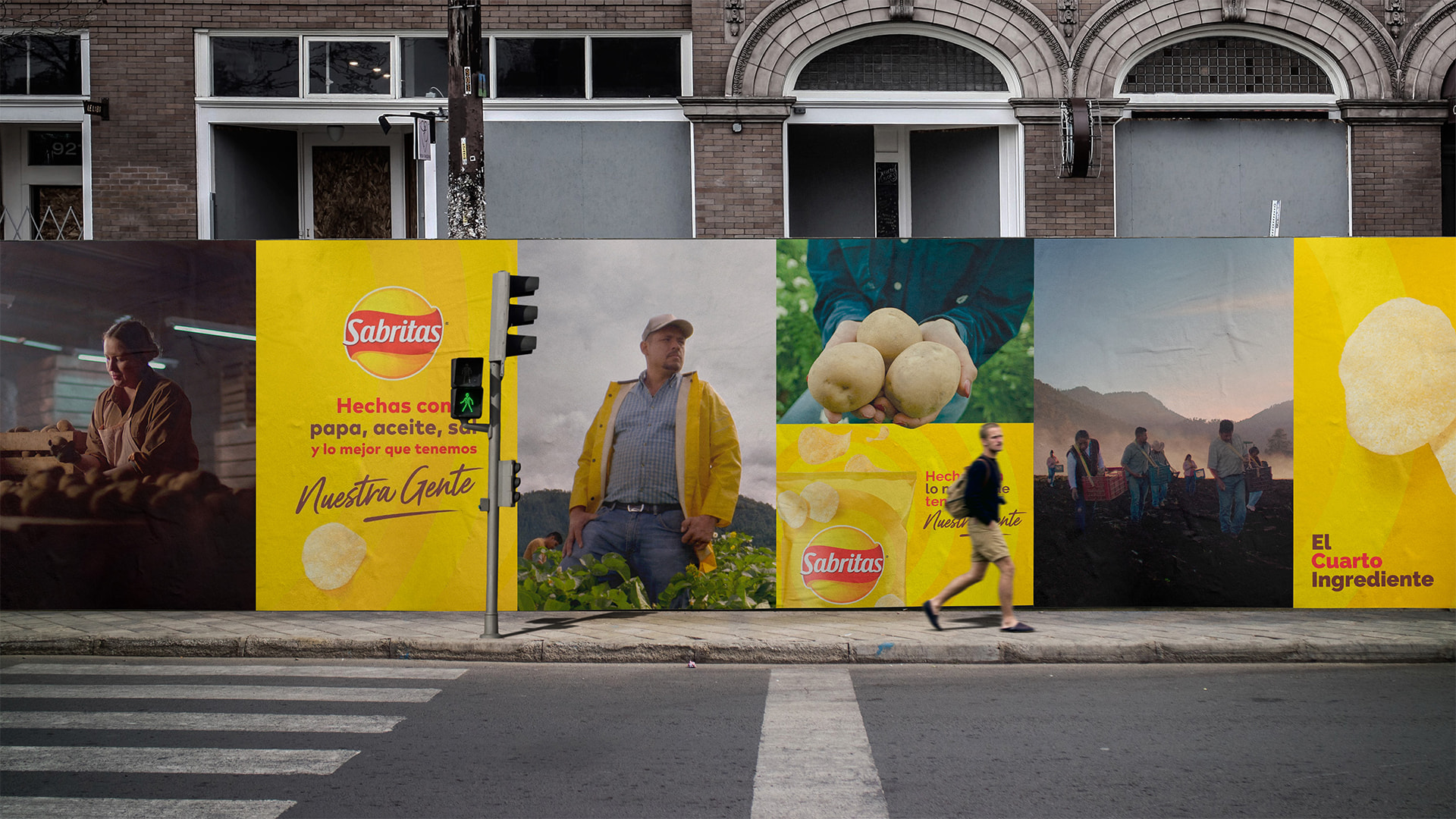 IMPACT OF CREATIVE IDEA ON SALES
AD EQUIVALENCE OF PHASE I
95M
AD EQUIVALENCE OF PHASE II
27M
OUR PEOPLE
MADE IT.
The campaign also counted on the presence of Aislinn Derbez and Carlos Rivera, as brand spokespeople, and it was so successful that Isla's original idea made it to the big screen in the form of a docuseries coproduced with The Discovery Channel.
The "Fourth Ingredient" campaign was also supported by a technical innovation which made Sabritas the first brand in the world with potato traceability, strengthening both the company values, as well as the credentials of natural ingredients and trust.
CLIENT
SABRITAS
OCTOBER
2022
SABRITAS, MADE WITH THE BEST WE HAVE: OUR PEOPLE.
CREDITS Advertiser: PepsiCo. Product: Sabritas. Chief strategy officer: Mariano Serkin. Chief creative officer: Ariel Serkin, Rodrigo Grau. Head of design: Alejandro Stea. Executive Creative Director: Mariano Gamba & Rodrigo Greco. Creative Director: Ignacio Jiménez, Patricio Isla. Head of production: Coqui Gimenez Uriburu. Head of media: Victoria Clucellas. Production House: Rebolución. Director: Watta Fernández. Second Unit Manager: Dante Anselmo. Director of Photography: Alan Badan. Executive Producer: Patrick Senger. Producer: Ivan Lomeli. Post Production Coordination: Mariano Olivari. Editor: Santiago Saponi. Sound Mix: Triton Sonido. Color Correction: Nadia Kahirat. Postproducción/VFX: Bitt Animation. Online: Bitt Animation. Soundtrack: Papamusic. Regional Team: Hernán Tartardini, Salvador Padrón, Tania García, Ximena Martínez, Paola Mayorga, Paola Pérez, Ixchel Gordillo, Alejandra Osorio, Mariana Guerrero Zepeda y Alejandro Maciel. Client Producer: Salomon Levy y Melissa Hernandez Vega.